Let me start by saying that you can dip these chunky brownies in milk, no problem. Also, you don't really need a recipe. If it wasn't for the creamy icing, I'd tell you to just add nuts, cacao and dates till it tasted good to you. Brownie recipes are like burgers. Everyone has their own way.
My way involves lots of texture: fluffy almond powder meets creamy cashew meets sticky dates. No cake-like brownies here.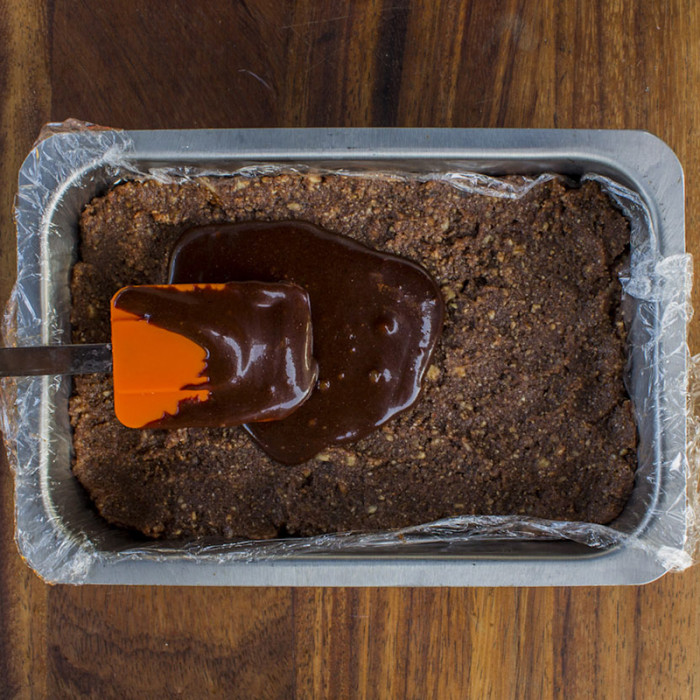 Chocolate Chocolate Brownie Recipe
1c Cacao Syrup*
6 Dates, pitted and pre-soaked
1/2c Almonds
1/2c Cashews
1/2c Walnuts or Pecans
1. Blend almonds and cashews into a fine powder (or buy pre-made almond powder).
2. Break walnuts into smaller pieces by using the pulse function of blender or food processor, set aside
3. Mix syrup with dates to make a thick-ish paste, be sure to scrape the sides of the mixer with a spatula to evenly mix, divide and set aside.
4. Mix almonds, cashews, half of walnuts and half of the chocolate paste in a large bowl until evenly coated.
5. Using your hands coated in a little oil, evenly press batter into a small to medium sized brownie pan lined with waxed paper (the larger the pan, the thinner the brownie.)
7. Using remaining paste, spread an even layer with a spatula over brownies, top with remaining walnuts.
8. Freeze for 2 hours to set, then keep refrigerated. For best texture, allow brownies to sit at room temperature for 10 minutes.
(If you want a creamy triple layer, try blending the cashews separate to a cream with half of the dates and adding that between the almond layer and the chocolate layer.
*Cacao Syrup Recipe (makes about 1c)
1/2 c Cacao Powder
6 dates (pre-soaked in 1/2c water)
1/4c Coconut Oil
1. Blend, add soak water from dates as needed for texture and store in the fridge for up to a week. (There is another option for keeping it room temperature for longer by substituting the dates for 1/3c maple syrup and adding no water)