Weisswurst, blutwurst, bockwurst, bregenwurst, knackwurst, gelbwurst, there are a million and one types of sausage and those are just from Germany! In fact, there are over 50 different varieties of Bratwurst alone and after today, the raw rost- bratwurst will make number 51.
Mock meat is no laughing matter. The taste and texture can be a tough sell for seasoned meat lovers.  These raw vegan sausage links are layered with a lotta complex flavors to get that simple taste.  Plus the condiments of sauerkraut and mustard are going directly in for full on flavor.
Ok so….this super simple recipe needs one complex item. If you're real about raw, a dehydrator is a must. If you don't have one, you can use your oven on its lowest setting for similar results. Need a dehydrator? Find it here.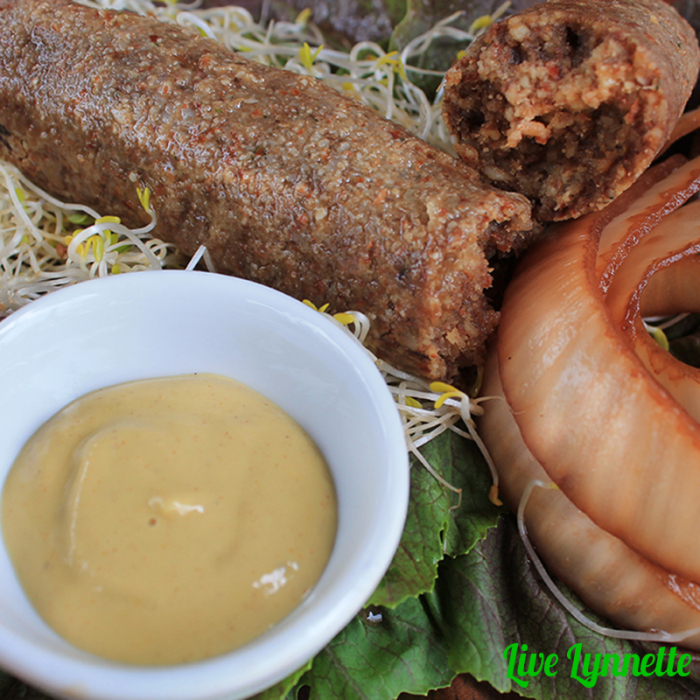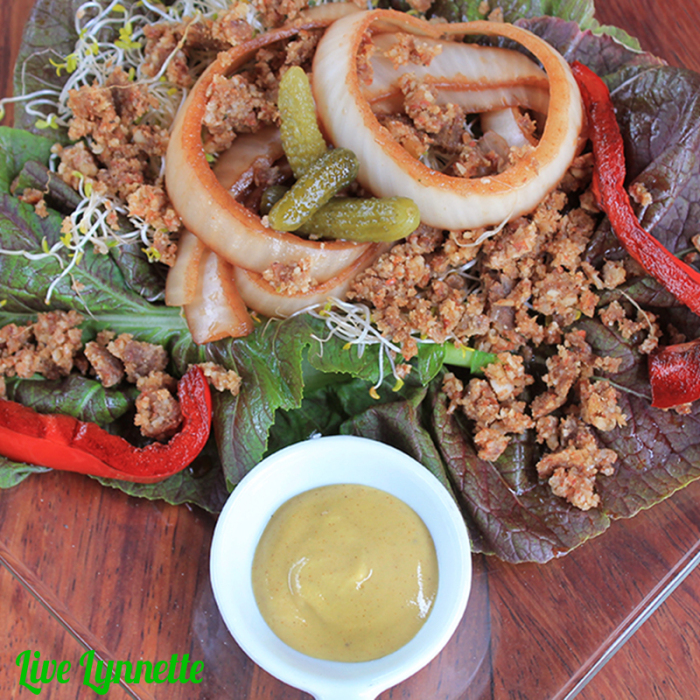 Raw Vegan Sausage Recipe
3c Portobello Mushrooms
2c Eggplant
1c Soaked Pecans
1c Garbanzo Beans (soaked overnight)
1/2c Sauerkraut
3½tb Extra Virgin Olive Oil
1 1/2tb Apple Cider Vinegar
4tb Tamari or Braggs Liquid Aminos
1 Onion
2 Cloves of Garlic
1/2c Parsley
1tb Cumin
2tb Fennel
2tb Mustard Powder
2tb Oregano
1tb Cardamom
2tb Smoked Paprika
Sea Salt to taste
1. Finely chop eggplant and mushrooms, combine liquid ingredients then marinade for 15 minutes
2. Process pecans until smooth
3. Add remaining ingredients and process till chunky, like ground sausage but don't over process!
4. Transfer everything to a large bowl and mix a little more
5. Shape into patties or logs or balls or all 3 – and dehydrate at 115F for 8-12 hours until crispy but still firm.
6. From here you can crumble it back down into ground beef style.