Great things happen when you walk into a dinner where you don't know anyone, and you're the first guest to arrive. I found out about the #femmeappetit dinner through it's co-founder Jackie Ho AKA @modelbaker on Instagram – who happens to be a model and a baker, who's vegan + gluten free creations are decadent and delicious.
The dinner was also hosted by Kaitlin of Pulp Pantry (and fellow Chicagoan) and Shay of The Local Skill (and fellow former NY'er) and included a meditation led by Laurasia. All photos (c) thelocalskill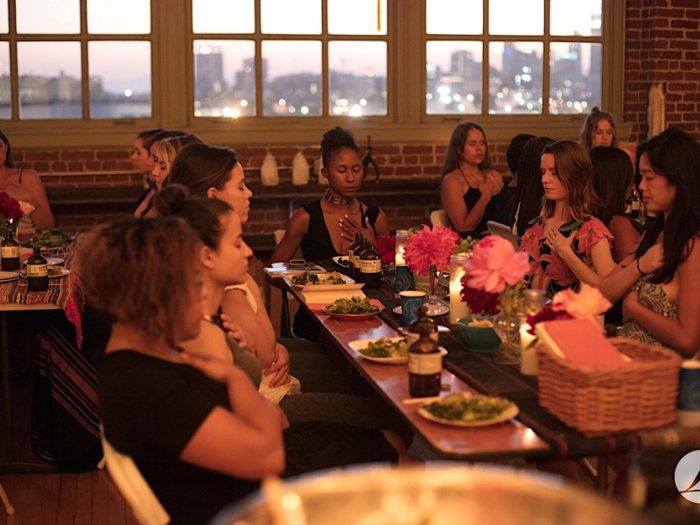 I guess I didn't read the invite correctly because I was taken by surprise with the fact that me and like 20 other women were to share ONE kitchen and a table full of vegetables (provided by the awesome Imperfect Produce).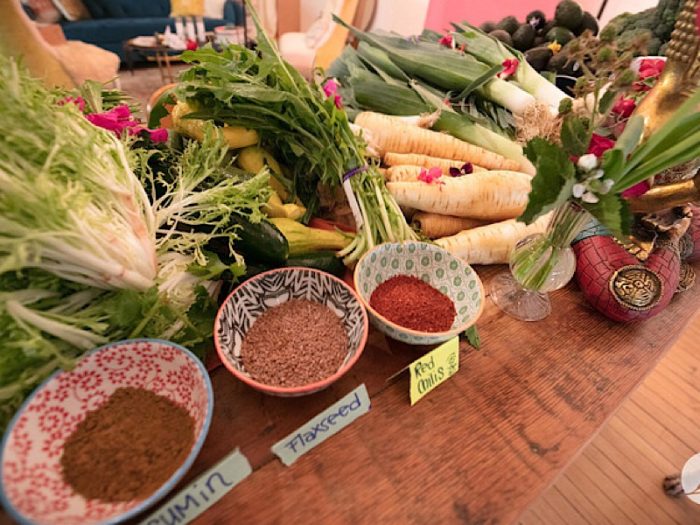 Most of my chef-ing experience is rooted in improvising on a day to day basis with whats available so I automatically got flashbacks of the confusion it can be with just 5 people…and then I remembered that this was not work, LOL.
We split up into 5 groups, grabbed some veggies and got to chopping, blending, sautéing… and for me whisking.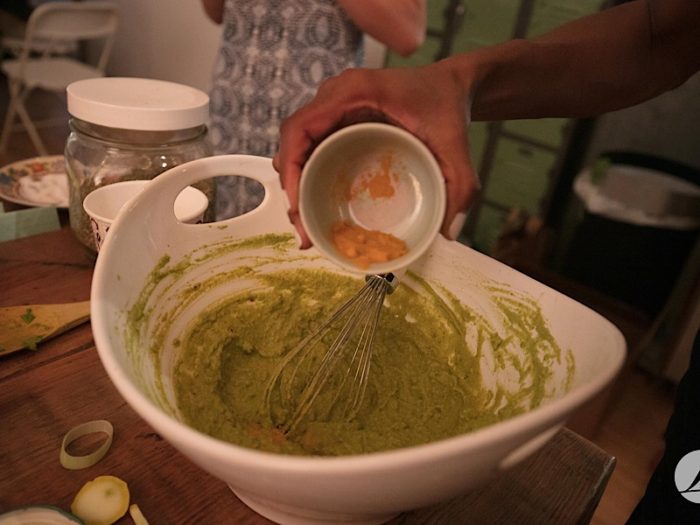 For most people the sauce is the hardest thing to make so I volunteered for my group – plus there were piles of avocados so it was as simple as making a quick cream sauce from my Superfood School program.
The best way to make a healthy sauce is with an avocado, it's a whole food fat (meaning its not concentrated like oils) and its got a relatively mild taste that can take on any flavor and blend smooth into a sauce.
With the avocado as a fat, the mustard as a tangy acid plus a pinch of sweetener and salt I made a quick "honey" mustard sauce to mix into our shredded raw zucchini. For umami, we topped with a layer of sautéed leeks plus added red pepper for kick and the superfood turmeric for color.
Spicy + Sweet Mustard Cream
1 Avocado
3tb Stone Ground Mustard or Dijon (not yellow!)
1/2t Turmeric (or more to taste)
1/2t Red Pepper Powder (or more to taste)
Water to desired consistency
Salt + sweetener to taste
Whisk or blend well. Keeps for one day.