ABOUT ME
The Super Short Story
My name is Lynnette and I am a food lover 🙂
Although I don't do dietary labels, my day-to-day dishes are mostly plant-based.
I've used my lifelong interest in healthy food to overcome PCOS syndrome and keep me awesome 🙂
I've created Superfood School to provide people with delicious options for plant-based meal planning.
The Long-er Story
Speaking of school, my food journey began there in the 6th grade, with a piece of Salisbury Steak. (so if you attended school in the USA like me, then your lunch likely sucked… and it likely included Salisbury Steak.)
For those that don't know, Salisbury Steak* is the epitome of processed food. Animal parts, gluten-y binders and unpronounceable preservatives formed into a patty…with grill marks painted on them.
To make matters worse, the sauce turns into a gelatin substance once it's cold….
It was the LAST straw for this 11 year old.
That night I told my mom that I'd start to make my own lunch. My interest in food grew. That summer I tried growing corn (which was an epic fail) and by 7th grade I was selling Rice Krispie Treats at recess. That's definitely not the healthiest thing, but hey, I was headed in the right direction….
During art college in New York, I worked part-time in all things food; from an internship at Family Circle Magazine to 5 star Restaurants, I learned as much as I could about food. Although I ate relatively healthy, my health still wasn't the best.
My medication from a 9/11 related allergy began to strip the enamel off my teeth plus I'd begun treatment for my PCOS symptoms (which could potentially be anything from infertility to growing a beard!!!) Finally, to make things worse, my mother was diagnosed with breast cancer for the second time.
I ditched the meds and focused on food.
I took nutrition courses and started to juice fast. I used my work money to travel the world and explore every way I could to make vegetables taste delicious. Slowly but surely I cut more and more processed foods out of my diet.
It was working.
Fast forward to today: my daily diet is 80% plant based, my PCOS symptoms have disappeared, my weight and skin are great and people find it very hard to believe I'm "pushing 40."
I heard my calling, quit my photo job and now work full time on educating others on the benefits of a plant based diet through Superfood School and Live Lynnette.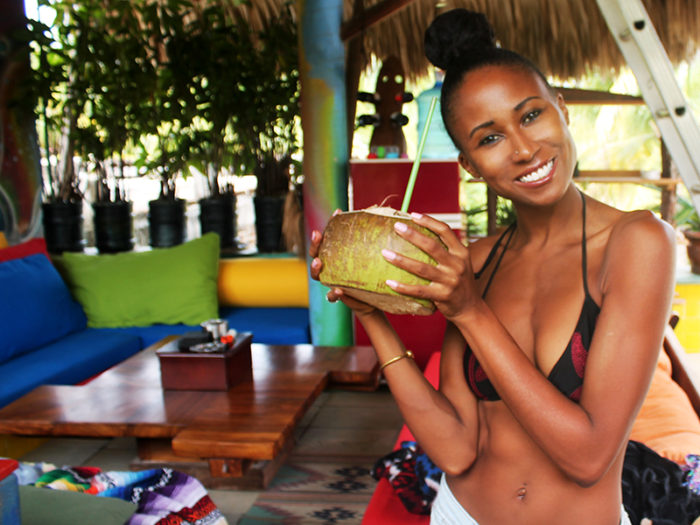 The Philosophy
Ask ANY licensed medical professional and they are all going to tell you that a plant-based diet is ideal. What's even better? Keeping (most of) your fruits and veggies raw, soaking your beans and nuts and sprouting some seeds are just a few ideas.
It is the blueprint for ANY health promoting diet.
Eating these foods will naturally reduce or maintain a healthy weight and fulfill ANY of your wildest dreams…..well not quite the last one but when you're healthy and happy, WHY NOT?
The Program
The Superfood School Plant-based Meal Planning program is a virtual guide of everything that I share during my in-person consults and retreats (even some of the jokes).
Once you learn these timeless techniques you're set for life (because once you can prepare zucchini a million different ways, you really are). 
There are a lot of diet and meal plans out there but at the end of the day no one gets to the foundation of  food freedom. Converting to this diet 100% of the time is very hard but using it as your go to for healthy foods is the first step.
Paleo, gluten free, low sugar, recovery, it's all compatible here and is easily modifiable for FODMAP's too. The program also includes a starter meal plan to help with weight loss, disease recovery and sugar addiction. If you need more help Superfood U is my one on one program that customizes everything to fit your needs. 
So what are you waiting for?
Join us!
*Ironically the inventor of Salisbury Steak, James Salisbury M.D believed that vegetables were the leading cause of heart disease, tumors and mental illness!

Want to interview/feature me or collaborate on a project? Download my EPK Here
Need some inspiration in your inbox? 
Questions, Comments, Rants and Raves?
message me below!
ABOUT LIVE LOFT
Located on the Pacific Coast of Mexico in the surf town of Puerto Escondido, LiveLoft is a new concept on wellness retreats,  focusing on live and local foods in a vibrant live/work space. Guests receive daily live juices and raw meals with local produce and many items grown on site for the ultimate detox.
LiveLoft is located inside Frutas y Verduras, a beachside rental property that includes a café and organic market. The popular property was recently featured in the NY Times' T Magazine winter travel issue.
LiveLoft is also available to rent separately or for visiting coaches and their programs. It is always available as a juice lab to recharge, experiment and become inspired by the local flavors.
Watch Live Loft in Action!
Puerto Escondido from Jordan Bellamy on Vimeo.
Message me here!